Today's front-page headlines from Marca, AS and Mundo Deportivo.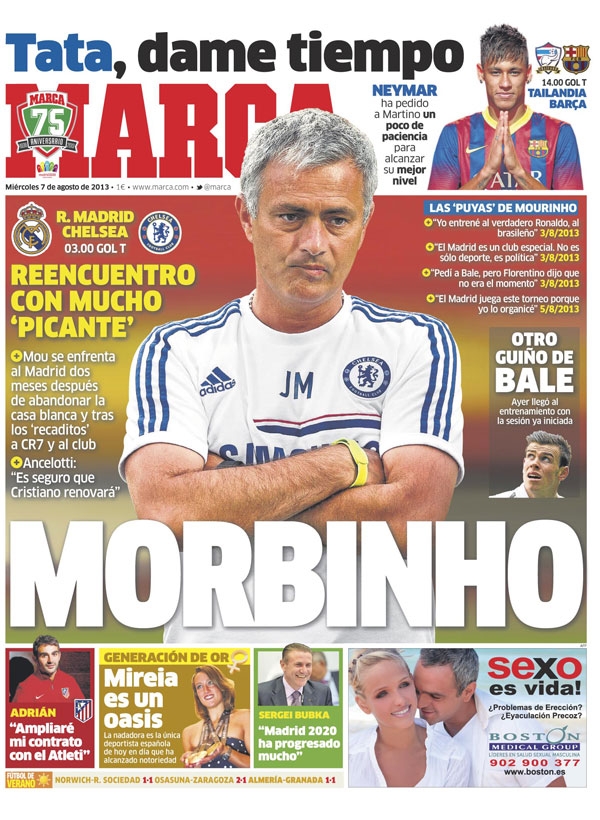 Morbinho
A reunion with spice
Mou faces Marid two months after leaving the White House and just after his messages to CR7 and the club
Ancelotti: "It is certain CR7 will renew"
Mou's gibes
"I trained the real Ronaldo, the Brazilian"
"Madrid is a special club. It is not about sport, it is politics"
"I asked for Bale but Florentino said it was not the moment"
"Madrid play in this tournament because I organised it"
Another wink from Bale
Yesterday he trains an injury
Tata, give me time
Neymar asks Martino for patience before reaching his best level
Adrian: "I will extend my contract with Atleti"
Golden generation
Mireia is an oasis
The swimmer is the only Spanish sportswoman of today that has achieved such notoriety
Sergei Bubka: "Madrid 2020 is on good progress"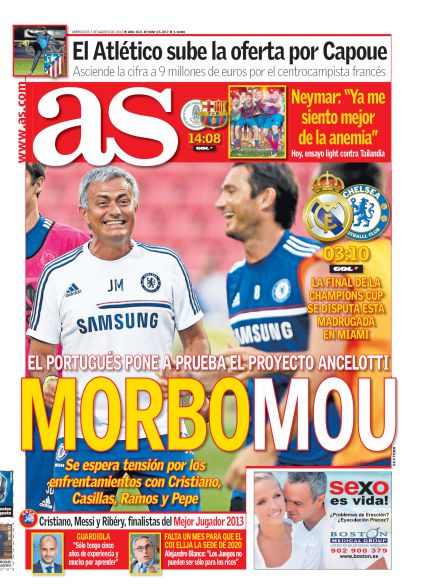 MorboMou
The Portuguese to test Ancelotti's project
The final of the Champions Cup will be disputed in Miami early morning
Tension is expected as Cristiano, Casillas, Ramos and Pepe meet their former boss
Neymar: "I already feel better from my anemia"
Today, he trains with a light program
Atletico increase their offer for Capoue
They increase it to €9 million for the French midfielder
Cristiano, Messi and Ribery are the finalists for player of the year 2013
Rayo against Getafe
Less than a month before the COI choose for 2020
Alejandro Blanco: "The Olympics will not be only for the rich"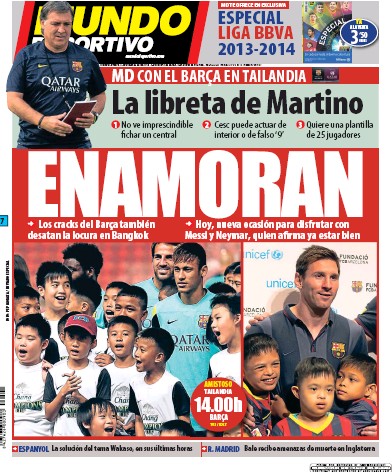 In love
Barca's two stars spark madness in Bangkok
Today, a new occasion to enjoy with Messi and Neymar who says he is better
The notebook of Martino
He does not see it as essential to sign a defender
Cesc can play in the midfield or as a false '9'
He wants team of 25 players
Real Madrid: Bale receives death threats in England
Formula 1: Ferrari is losing the race in evolution