Today's front-page headlines from Marca, AS and Mundo Deportivo.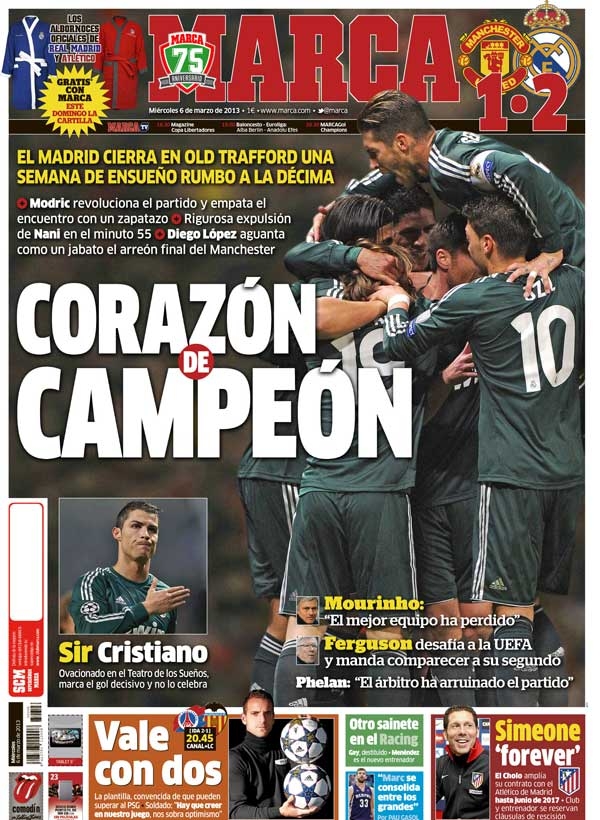 Heart of a champion
Madrid close out the week in Old Trafford and continue their dream march to La Decima
Modric revolutionised the game and drew the game level with a great strike
A harsh red card to Nani on 55 minutes
Diego Lopez was very brave between the sticks especially late on
Mourinho: "The best team has lost"
Ferguson challenges UEFA and sends his second-in-charge to speak
Phelan: "The referee has ruined the game"
Valencia: Good for two
The team are convinced they can overcome PSG
Soldado: "There has to be belief in our game, we are optimistic"
Simeone forever
El Cholo extends his contract with Atletico Madrid to June 2017
Both club and trainer include clauses to rescind
Another comical affair in Racing
Gay is fired, Menindez is the new trainer
"Marc consolidates the best", Pau Gasol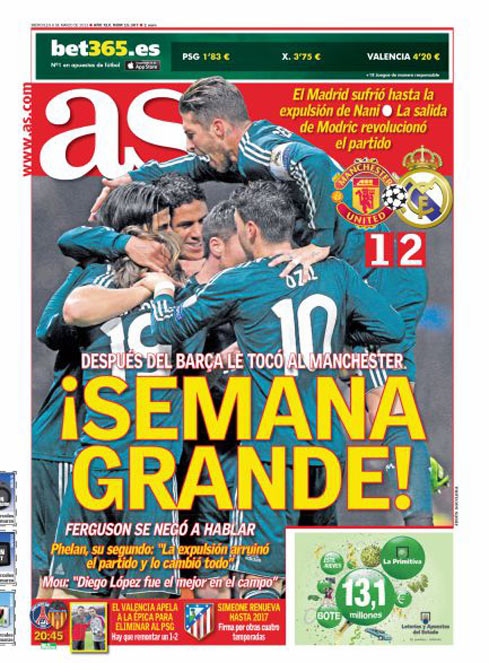 A great week
After Barcelona, they account for Manchester
Ferguson refuses to speak
Phelan,his assistant: "The expulsion ruined the game and changed it completely"
Mou: "Diego Lopez was the best on the field"
Madrid suffers until the expulsion of Nani
The introduction of Modric revolutionised the game
Valencia bidding for an epic display to eliminate PSG
They need to comeback from 1-2
Simeone renews until 2017
Signs for another four seasons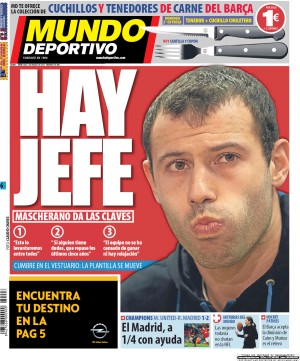 There is a boss
Mascherano has the keys
1. "We will all wake from this"
2. "If someone has doubts, they should look over the last five years"
3. "The team is not tired of winning, nor is resting on its laurels"
Team summit: The team is on the move againe
Champions League: Madrid to the quarter finals with help
Stories from the world
The ladies still cannot shoot in the NFL
Hockey: Barca accepts the resigniation of Cairo and Munoz as relief