Today's front-page headlines from Marca, AS and Mundo Deportivo.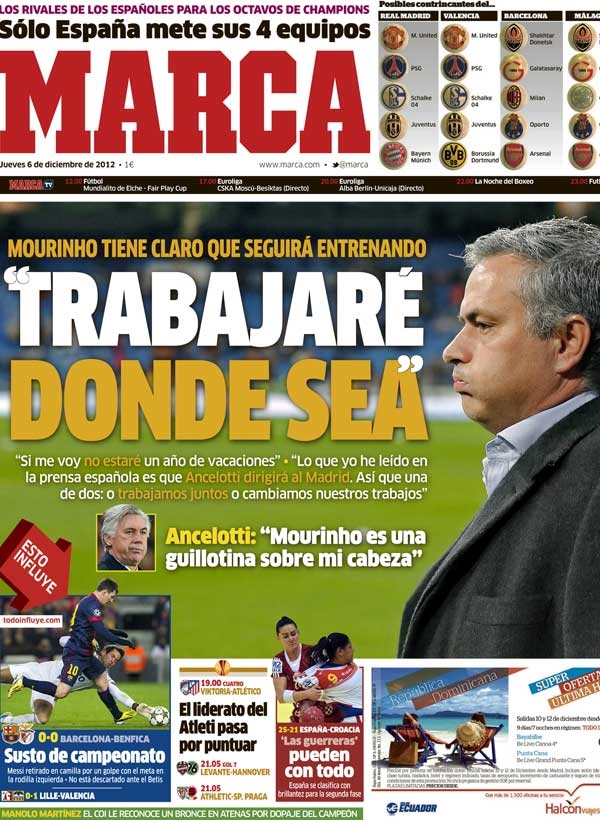 Mourinho: I will work where work is
Mou makes clear that he will continue to work
"If I go, I will not go on vacation"; "What I have read in the Spanish press is that Ancelotti is to coach Madrid ,so it is one for one; we work together or we change our job"
Ancelotti: Mourinho is under the guillotine
The possible opponents for Spanish side in the round of 16; Only Spain has four teams
A fright for the champion: Messi taken off on a stretcher after bruising his left knee; he is not yet ruled out of Real Betis game
Atletico Madrid: Atleti's leader to continue
Espana v Croacia: The warriors can do anything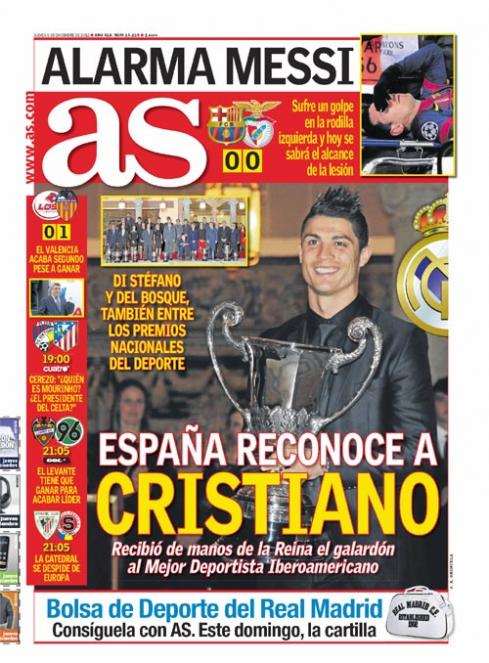 Spain recognises Ronaldo: He receives from the hands of the King the award for the best Iberoamericano sportsman
Di Stefano and Del Bosque, also amongst those recognised
Messi suffers a bruise to his left knee and today he will know the extent of his injury
Lille 0-1 Valencia: Valencia finish second despite win
Atletico Madrid's Cerezo: Who is Mourinho, the president of Celta?
Levante v Hannover 96: Levante have to win to finish top of their group
Athletic Bilbao v Sparta Prague: The cathedral says goodbye to Europe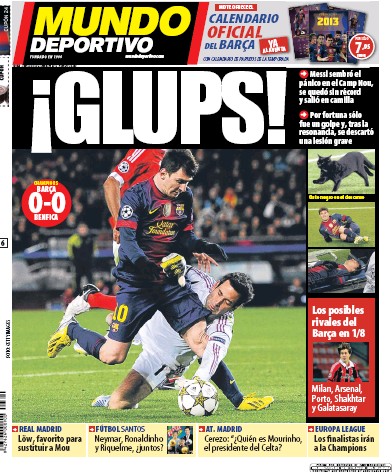 Oh no; Messi causes panic in the Camp Nou when he is taken off injury; Fortunately it is only a bruise as after a test he does not have a serious injury
The possible rivals for Barcelona: Milan, Arsenal, Porto, Shakhtar and Galatasaray
Real Madrid: Low the favourite to take Mou's place
Football, Santos: Neymar, Ronaldinho and Riquelme together?
Atletico Madrid's Cerezo: Who is Mourinho, the president of Celta?
Europa League: The finalists from the Champions League