Today's front-page headlines from Marca, AS and Mundo Deportivo.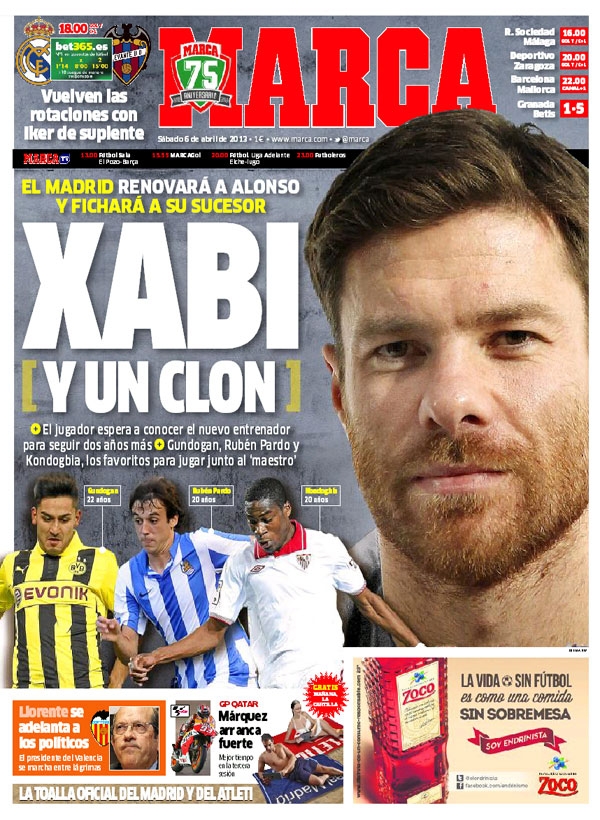 Xabi and a clone
Madrid renew Alonso's contract and to sign his successor
The player is waiting to know who is the new coach for the next two years
Gundogan, Ruben Pardo and Kondogbia are the favourites to play and eventually take over from the maestro.
Real Madrid: more rotation with Iker to start on the bench
Llorente to go into politics
Marquez starts strong in the MotoGP
Records the best time in the third trial
Deportivo
Ramos an option
Barca could plan to sign Ramos if Madrid put him on the market
PSG, Carlo Ancelotti on the counter-attack: "I am surprised by Barca's official complaint to UEFA"
Real Madrid v Levante: Casillas returns to the squad but will not paly
Valencia: Llorente abandons the presidency of the club
Cesc, Bartra and Song to start against Mallorca
Vilanova will rotate with the Champions League in mind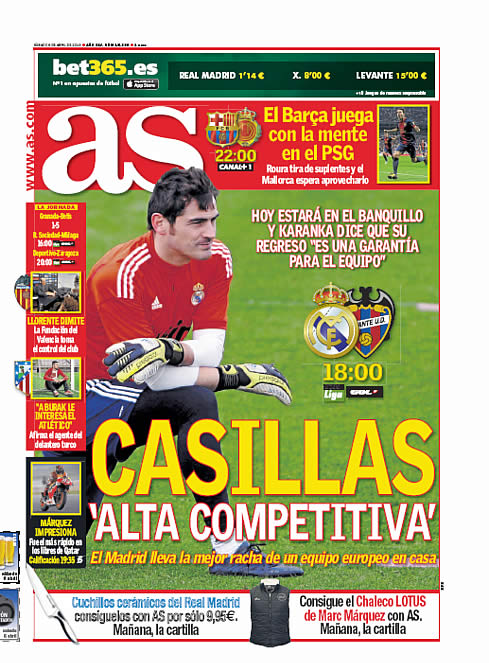 Today Iker will be on the bench and Karanka says that his return :is a guarantee for the team"
Casillas, 'competitively fit'
Madrid have the best home streak in Europe
Barca play with PSG in mind
Roura to use his substitutes and Mallorca hoping to take advantage of it
Llorente leaves Valencia
The Foundation of Valencia take control of the club
"They are interested in Burak", player's agent confirms Atletico are interested in signing the Turk
Marquez impresses
Was the fastest in qualification for the Qatar MotoGP