Today's front-page headlines from Marca, AS and Mundo Deportivo.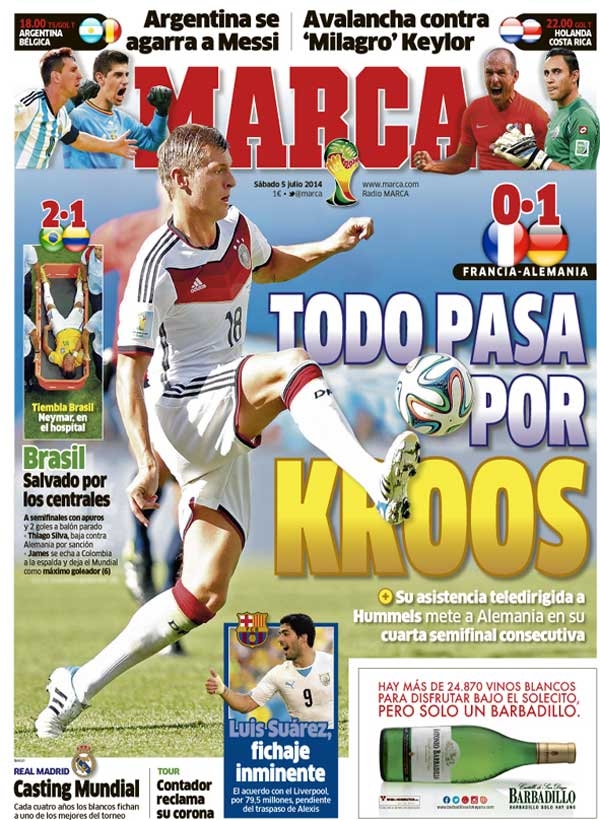 Everything goes through Kroos. His remote controlled assist to Hummels puts Germany into their
fourth consecutive semi final.
Luis Suarez signing imminent. The agreement with Liverpool for 79.5 million, depends on the
transfer of Alexis
Argentina cling to Messi.
Avalanche against miraculous Keylor.
Brazil saved by their centre backs. Into the semi-finals with difficulty and two goals from set pieces.
Thiago Silva out of Germany game due to suspension. James took on responsibility for Colombia and
leaves the World Cup as top goalscorer (6).
Brazil trembles, Neymar in hospital
World Casting. Every four years Los Blancos sign one of the best from the tournament.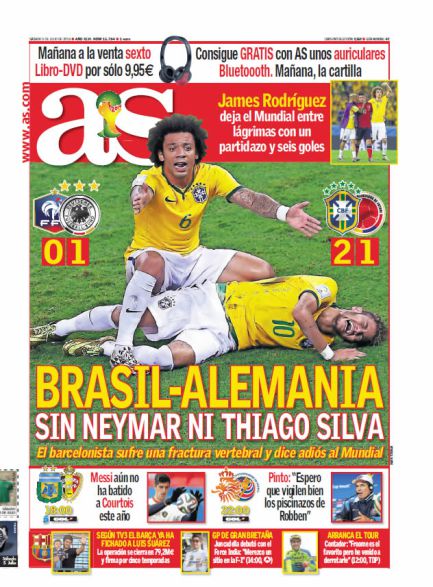 Brazil Germany without Neymar or Thiago Silva. The Barca player suffers a spinal fracture and says
goodbye to the World Cup.
James Rodriguez leaves the World Cup in tears after a great game and six goals.
Messi still has not beaten Courtois this year.
Pinto: I hope they keep an eye on Robben's dives.
According to TV3 Barca have already signed Luis Suarez. The deal will be done for 79.2 million and he
will sign for five seasons.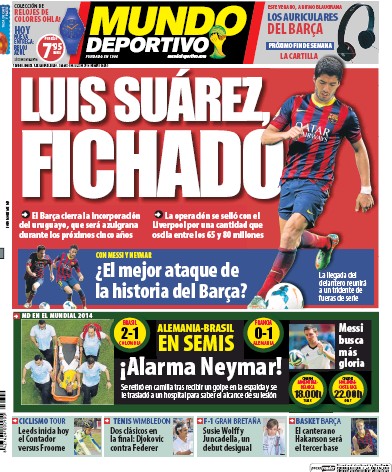 Luis Suarez signed.
Barca close the deal for the Uruguayan, who will be Azulgrana for five seasons. The deal is sealed
with Liverpool for an amount between 65 and 80 million.
With Messi and Neymar, the best attack in the history of Barca? The arrival of the striker will mean a
threesome that is one in a million.
Germany Brazil in the semis. Alarm over Neymar. He went off on a stretcher after receiving a blow to
the back and went to hospital to find out the extent of his injury.
Messi searches for more glory.
Kroos, Falcao and James, Florentino's cards.