Today's front-page headlines from Marca, AS and Mundo Deportivo.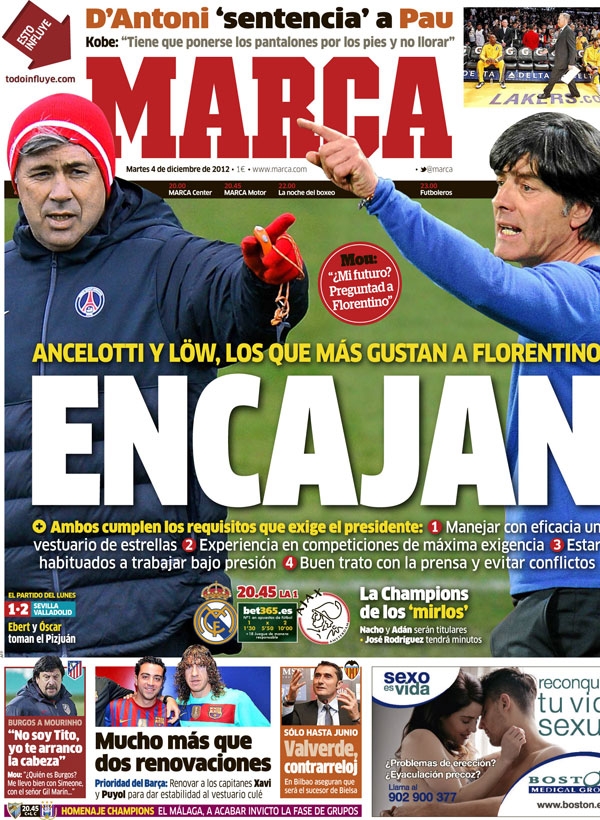 They fit: Ancelotti and Low, the two that Florentino likes the most
Both meet the requirements wanted by the President; they both a suitable for managing a team of stars; experience in the biggest competitions; they know how to work under pressure; both deal in the right way with the press
Mou: My future? Ask Florentino
Real Madrid v Ajax: The champions of the blackbirds
Burgos a Mourinho: I am not Tito, but I will tear your head off
Mou: Who is Burgos? I get on well with Simeone and president Gil Marin
Mucho mas que renovaciones: Priorities for Barca; Renovar a los capitanes Xavi and Puyol to give more stability for the Cules
Only until June: Valverde on a time trial
In Bilbao they assure that there will be a successor to Bielsa
Basketball: D'Antoni sentenced by Pau
Kobe: He has to put his pants and not cry about it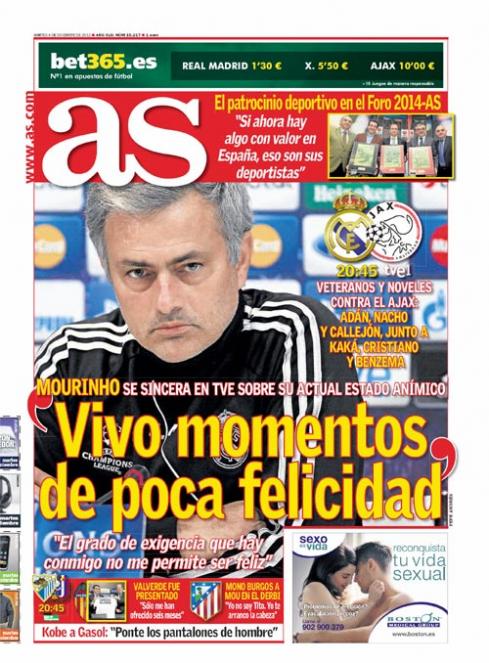 Mourinho: Opens up on TVE over his current situation and state of mind
Mou: I live now with little happiness
The degree of pressure on me does not allow me to be happy
Valencia: Valverde was presented; "They have offered me six months"
A little derby now between Mou and Burgos: I am not Tito, but I will tear off your head"
Kobe to Gasol: Put on your pants and be a man
Real Madrid v Ajax: Veterans and new faces against Ajax; Adan, Nacho, Callejon together with Cristiano, Kaka and Benzema
Sport sponsorship forum: If now there is something with value in Spain, it is their athletes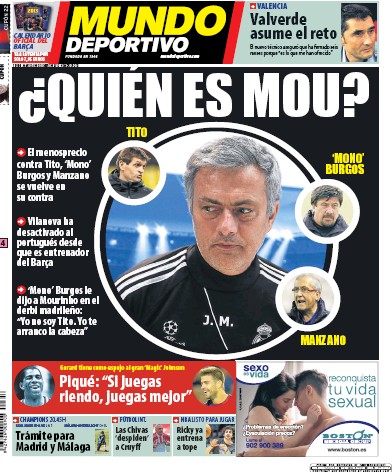 Who is Mou?
The contempt against Tito, Burgos and Manzano turn against him
Vilanova has ignored the Portuguese since becoming coach
Mono Burgos tells Mourinho in the Madrid derby: I am not Tito, but, I will tear off your head
Pique: If you play smiling, you play better
Gerard's attitude reflects that of the great Magic Johnson
Champions League: Routine stuff for Malaga and Madrid who have both already qualified
International football: Chivas say goodbye to Cruyff
Basketball: Ricky already training to the maximum
Valencia: Valverde assume control, the new coach says that he has signed for six months, "it is what the offered me"