Today's front-page headlines from Marca, AS and Mundo Deportivo.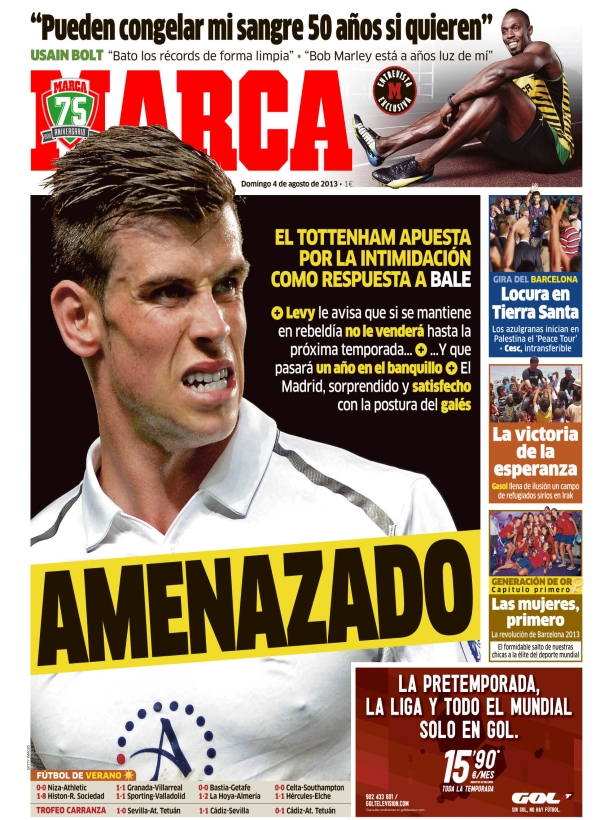 Threatened
Tottenham using intimidation as a response to Bale's desire to leave
Levy advises him that if he continues his rebel stance he will not be sold until next season
And if this happens, he will spend much of the year on the bench
Madrid are surprised yet still happy with the posture of the Welshman
"They can freeze my blood for 50 years if they want." Usain Bolt
"I beat record cleanly", "Bob Marley is the inspiration for me"
Barcelona tour: Madness in Tierra Santa
Los Azulgranas start their 'Peace Tour' in Palestine
Cesc is untransferable
The hope of victory
Gasol is full of optimism ahead of his sides's series in Iraq
The girls are the best: The revelation at Barcelona 2013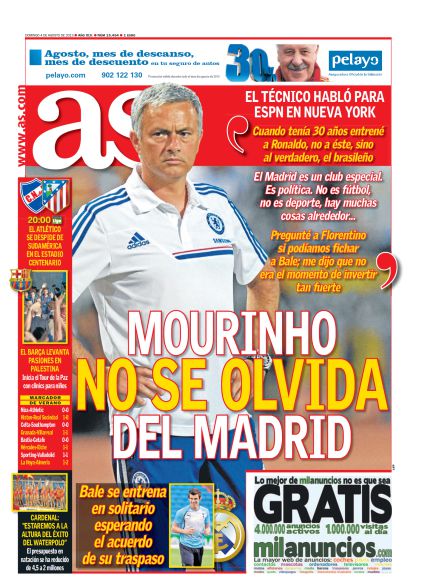 Mourinho does not forget Madrid
The coach spoke in New York to ESPN
"When I was 30-years-old, I trained the real Ronaldo, not this one, but the real one at Barcelona"
"Madrid is a special club, it is about politics, not football, there are more important things there.."
"I asked Florentino if we could sign Bale, he told me that it was not the moment to invest so much"
Bale trains by himself in the hope of his transfer transpiring
Atletico finish of their South American tour at the Estadio Centenario
Barca trigger passion of fans in Palestine
They start their 'Tour of Peace' with clinics for kids
Cardenal: "We will reach the height of success in the waterpolo"