Today's front-page headlines from Marca, AS and Mundo Deportivo.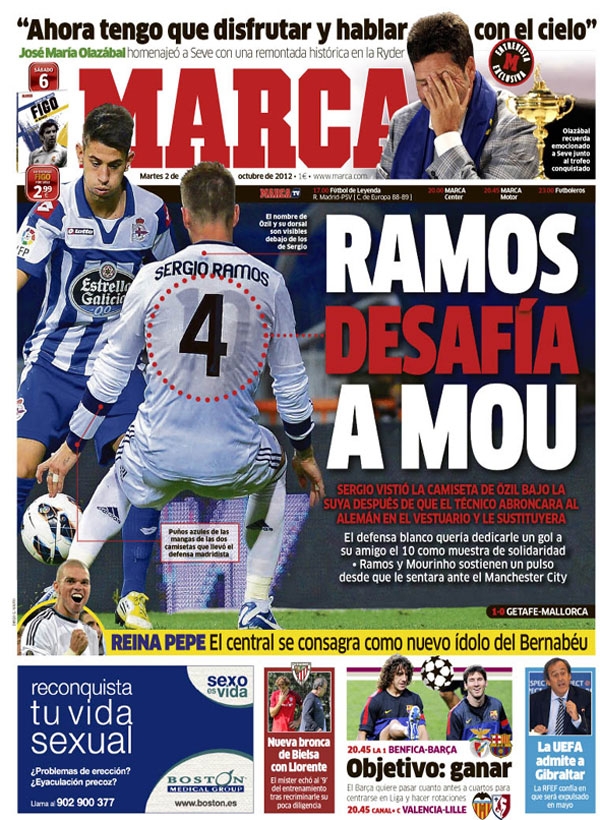 Olazbal: Now I have to enjoy this and have a chat with heaven
Jose Maria pays tribute to Seve with a comeback in the Ryder Cup
Ramos defies Mourinho
Sergio wore the shirt of Ozil under his own after Mourinho gave the German a dressing down and substituted him.
He wanted to dedicate a goal to his friend 'the No 10' as a sign of solitude
Ramos and Mourinho have been at odds since he was benched against Man City
Pepe Rules: The defender has established himself as a new idol of the Bernabeu
Athletic: Another argument between Llorente and Bielsa. The Coach threw the No 9 out of training
Objective: To win. Barca want to qualify from the group stages as soon as possible so they can concentrate on the league and can rotate.
UEFA accept Gibraltar: RFEF are confident that they will be expelled in May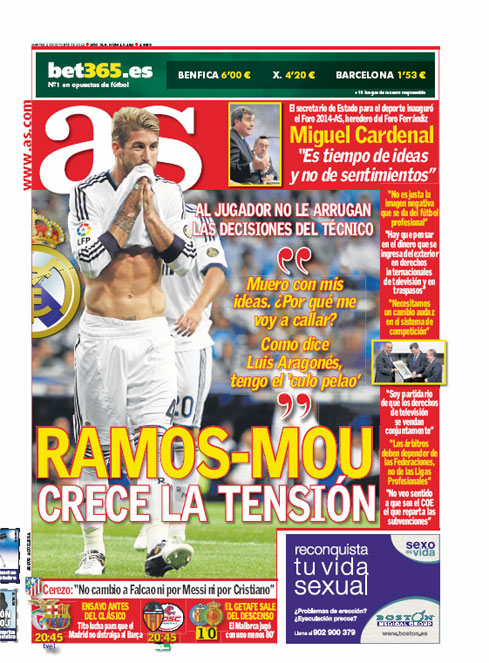 Ramos – Mourinho: The tension mounts
Ramos: I am dying with my ideas, why would I shut up?
As Luis Aragones said, I am a smart arse
Cerezo: I wouldn't change Falcao for Messi or Cristiano
Tie before the El Clasico: Tito fighting so Madrid don't distract Barca
Getafe out of the relegation zone, Mallorca play 80 minutes with 10 men.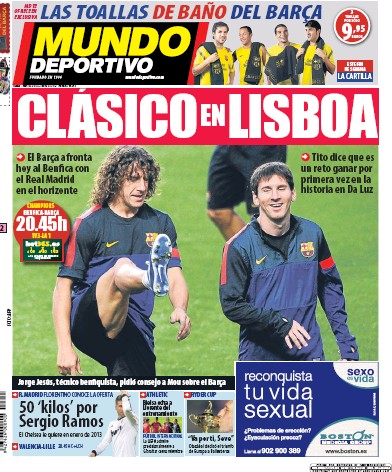 Clasico in Lisbon
Barca face Benfica today with Real Madrid on the horizon
Tito says it is a challenge to win for the first time in the stadium of light
Jorge Jesús, Benfica Coach, asks Mourinho for advice about Barca
Raul Garcia is a superstar, says 'EL Vasco' Aguirre who brought the Navarro born player to Atletico
Athletic: Bielsa throws Llorente out of training
Real Madrid: Chelsea have offered €50 million for Sergio Ramos
Uefa accepts Gibraltar as a provisional member.