Today's front-page headlines from Marca, AS and Mundo Deportivo.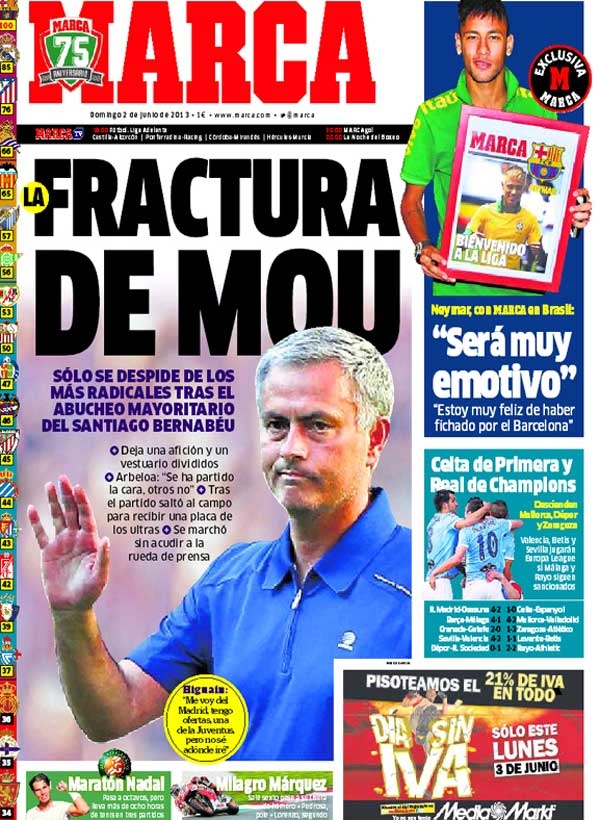 The departure of Mou
He says goodbye to Madrid's Ultrasur while many others boo him at the Santiago Bernabeu
Leaves the fans and dressing room divided
Arbeloa: "He has faced up to many things, others no"
After the game he received a plaque from the ultras
He leaves without talking to the press
Higuain: "I'll leave Madrid, I have offers and one from Juventus but I do not know where I will go"
Neymar with Marca in Brazil
"It will be exciting," Neymar
"I am happy to have signed for Barcelona," Neymar
Celta stay in the Primera, Real in the Champions League
Valencia, Bets and Sevilla will play in the Europa League of Malaga and Rayo are sanctioned
Nadal marathon: Progress to the round of 16 but had to battle for 8 hours
Miracle Marquez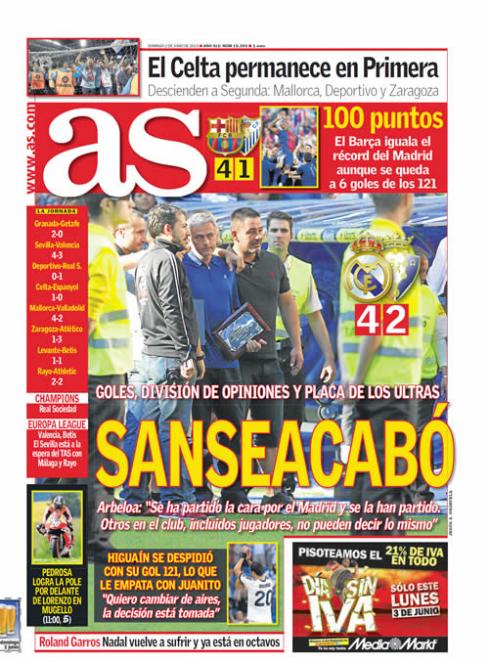 The matter is closed
Goals, divisions and a plaque from the Ultras
Arbeloa: "He has faced up to everything for Madrid and they have played him. Others at the club, including the players, cannot say the same"
Higuain says goodbye with goal number 121, with draws him level with Juanito
"I want to a change of environment, the decision has already been taken"
100 points: Barca equal Madrid's record with six goals less
Celta remain in the Primera Division
Going down to Segunda is Mallorca, Deportivo and Zaragoza
Champions League, Real Sociedad
Europa League: Valencia, Betis and Sevilla if Malaga and Rayo remain suspended
Pedrosa wins pole ahead of De Lorenzo in Mugello
Roland Garros: Nadal returns suffering but makes the Round of 16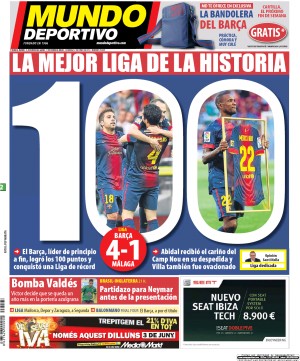 The best in La Liga history
100
Barca, the leaders from the start to the end, achieved 100 points as they conquered a La Liga record
Abidal received the affection of the Camp Nou as he leaves while Villa was also given a standing ovation
Valdes makes a u-turn
Victor decides to stay one more year with the Azulgrana
Brazil v England: A opportunity for Neymar ahead of his presentation
Liga: Mallorca, Depor and Zaragoza relegated
Handball: Final four, Barca going for the title