Today's front-page headlines from Marca, AS and Mundo Deportivo.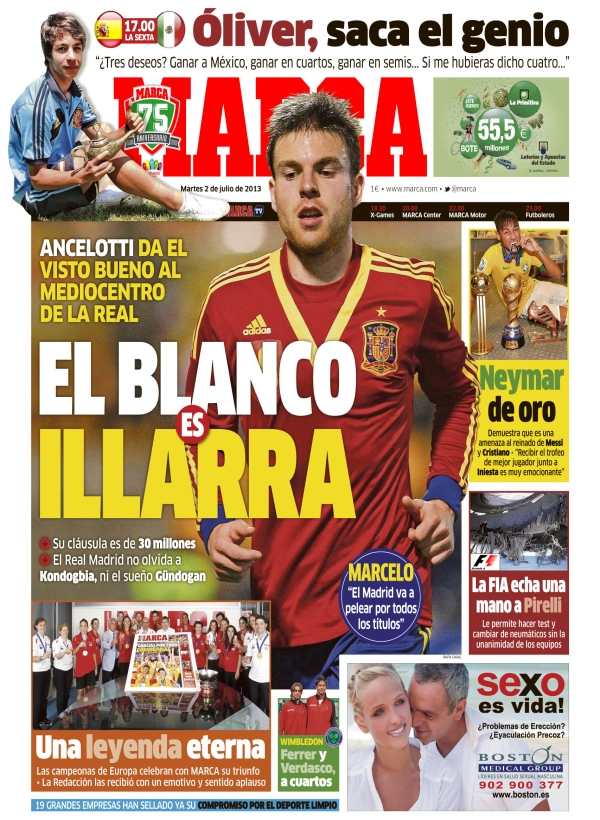 Ancelotti considering the Real midfielder
El Blanco is Ilarra
His clause is 30€ million
Real Madrid has not given up on Kondogbia nor the dream Gundogan
Marcelo: "Madrid will fight for everything"
Golden Neymar
He demonstrates that he is a threat to the rein of Ronaldo and Messi
"To receive this team trophy of the best player of the tournament together with Iniesta is very exciting"
FIA lend a hand to Pirelli
They permit them to make a test and change the neumatics without unanimity from the teams
Oliver, the genius is coming out
"Three desires? To win in Mexico, to win the quarters, to win the semis, if I you said to me four..."
An eternal legendary
The champions of Europe celebrate with Marca their triumph
Wimbledon: Ferrer and Verdasco to the quarters
19 great companies have agreed on how to clean up sport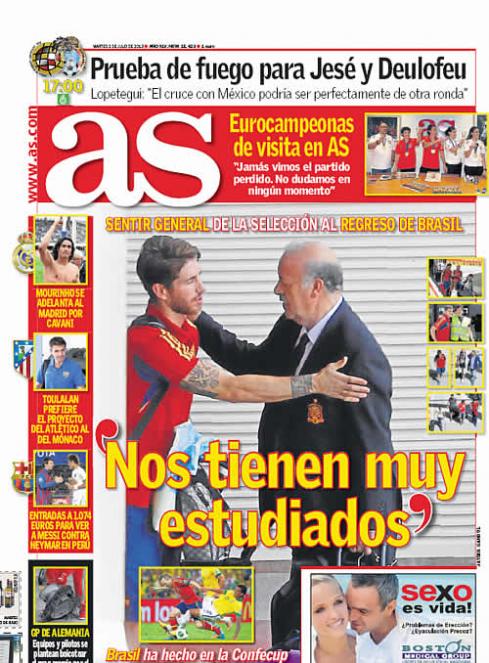 "They have studied us alot"
The national team return from Brazil
Brasil committed 107 fouls in the Confederations Cup and Spain ,58
Mourinho overtakes Real Madrid for Cavani
Toulalan prefers Atletico to Monaco
Tickets for 1074€ to see Neymar and Messi in Brazil
German GP: Teams and drivers plan boycott the great race because of Pirelli
European champions visit AS
"We never saw us losing the game. We never had a doubt"
A test of fire for Jese and Deulofeu
Lopetegui: "The meeting with Mexico could be the perfect test"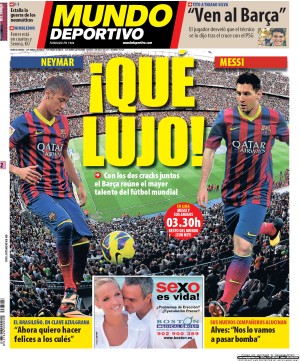 Neymar and Messi: What luxury
With the two stars Barca have the best talents in world football
The Brazilian will be key
"I want to make the Azulgranes happy"
Alves: "We will be fantastic with him"
Tito to Thiago Silva: "Come to Barca"
The player reveals the coach has asked him to leave PSG
Formula 1: The war starts over neumatics
Wimbledon: Ferrer is in the quarter finals and Serena is knocked out