Today's front-page headlines from Marca, AS and Mundo Deportivo.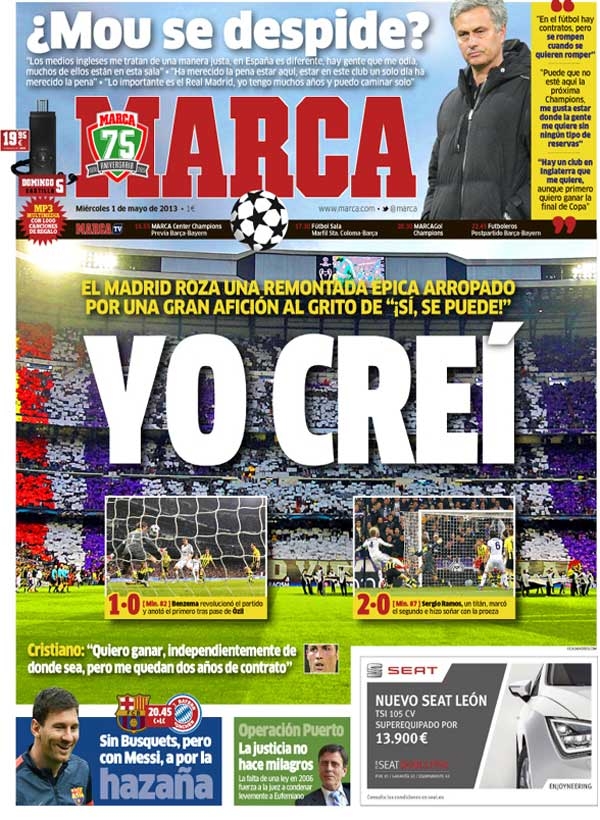 Mou to leave?
"The English treat me in a fair way, here is Spain it is different. There are people that hate me a lot and they are in this room.
"It has been worth the pain to be here, to be at this club for only a day has been worth it
"The most important things is Real Madrid, I have many years and I can go alone
"In football there are contracts but they are broken whenever someone wants them to be broken
"Maybe in the next Champions League I would like to be someone where the people want me completely
"There is one club in England that wants me, but I am focusing on winning the Copa del Rey," Mourinho
Madrid comeback in epic fashion as the fans shout, "Yes, yes we can"
Cristiano: "I want to win, independently of where I am but I still have two more years on my contract"
Barcelona v Bayern: Without Busquets, but with Messi, Barca go for the comeback
Operation Puerto: Justice does not make miracles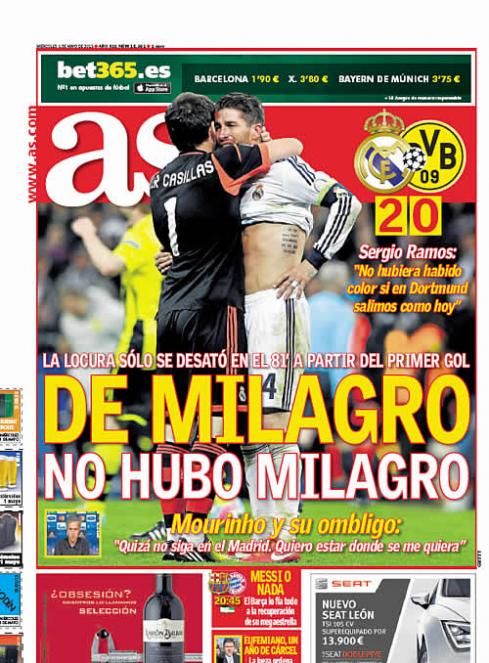 Real Madrid 2-0 Dortmund
Sergio Ramos: "There would have been color if Dortmund playeed like they did today"
A crazy end to the game started in the 81st minute with the first goal of the miracle that wasn't
Mourinho talks,"Maybe I do not continue at Madrid. I want to be somewhere where the people want me"
Messi or nothing; Barca have faith in coming back with their megastar
Eufemiano, a year in jail