Today's front-page headlines from Marca, AS and Mundo Deportivo.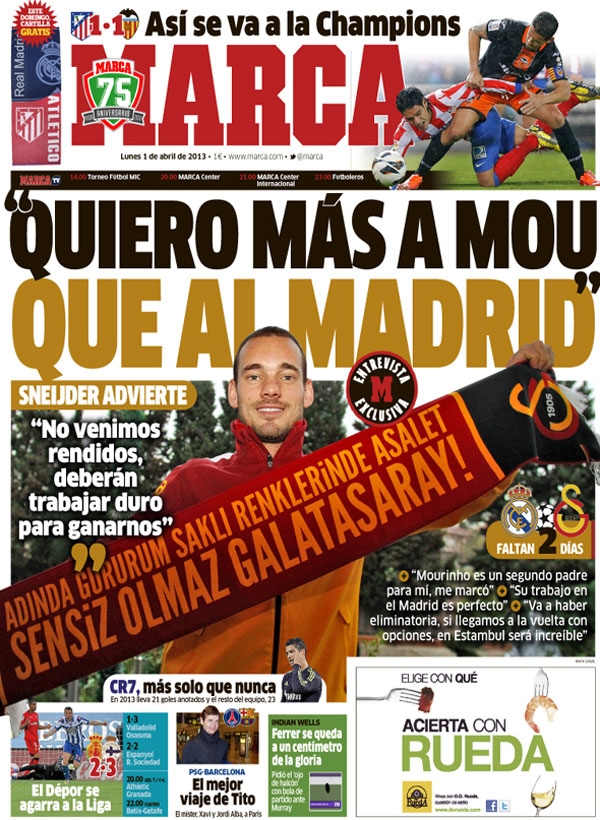 "I want Mou more than Madrid", Sneijder
"We do not come to give up, they will have to work hard to beat us", Sneijder
"Mourinho is like a second father to me, he has left a mark on me"
"His work in Madrid is perfect"
"It is an elimination, if we get to the second leg with options, in Istanbul it will be incredible"
CR7, more than ever
In 2013 Ronaldo has scored 21 goals while the rest of his team have scored 23
Depor holding on in La Liga
PSG v Barcelona: The best trip for Tito
The Mister, Xavi, Alba go to Paris
Indian Wells: Ferrer a centimetre away from victory
Atletico 1-1 Valencia: Like that goes the Champions League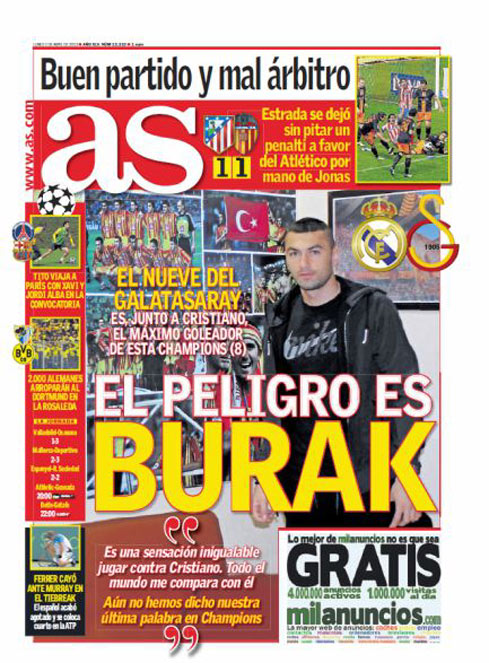 The danger of Burak
The new Galatasaray
Burak equal with Cristiano with 8 goals in the Champions League
"It is an incredible feeling to play against Cristiano. All the world compares me to him," Burak
"We have not had our last word in the Champions League," Burak
Atletico 1-1 Valencia: Great game, bad referee
Estrada does not whistle for a penalty in favour of Atletico for a handball from Jonas
Tito travels to Paris with Xavi and Alba
2000 Germans to support Dortmund at La Rosaleda
Ferrer falls against Murray in a tiebreak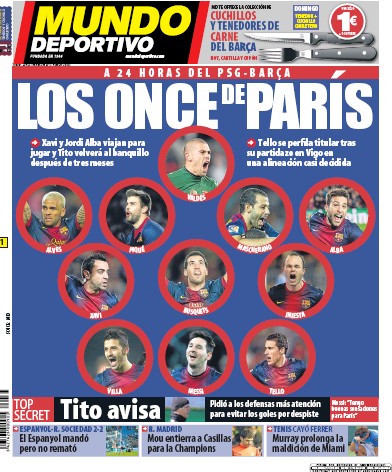 The eleven for Paris
Valdes; Alves, Pique, Mascherano, Alba; Xavi, Busquets, Iniesta; Villa, Messi, Tello
Xavi and Alba travel to play with Tito returning to the bench after three months
Tello in the starting after his decisive display against Vigo
Tito warning: He has asked his defense to play more attention to avoid conceding goals
Messi: "I have great feelings for Paris"
Real Madrid: Mou to leave out Casillas in the Champions League
Tennis: Ferrer falls