Caso Negreira continues to dominate mainstream news in Spanish football, especially following confirmation of the Prosecutor's Office's intention to charge Barcelona with "continuous sporting corruption".
New revelations continue to emerge as pressure builds on Barcelona to present their perspective on the matter. The latest goes into detail on the timeline of payments that Barca officials made to Enriquez Negreira, former Vice President of the Referee's Committee in Spain.
Information released by Football Leaks (via Sport) shows that payments to Negreira began in 2001, under the presidency of Joan Gaspart. However, when he was replaced by Enric Reyna during the 2002/03 season, the payments ceased.
No money was given to Negreira for either of the following two teams, in which Joan Laporta was at the helm. However, payments resumed from the 2005/06 season, while Laporta was in his first spell as Barcelona President.
Payments also increased year-on-year to Negreira's company, NILSAD SCP, in the following years (€221,278 in 2006/07, €243,659 in 2007-08, €285,398 in 2008-09 and €573,398 in 2009-10). This is reportedly due to the increase in information services.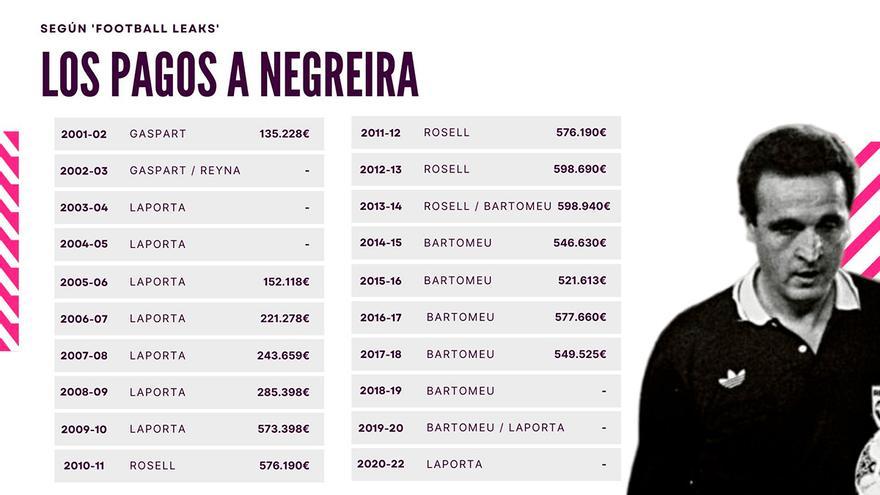 Barcelona are expected to give their perspective on matters in the coming weeks, with Laporta intending to hold a press conference once an internal investigation has been completed.