An umpteenth knock-out clash opposing Liverpool against Real Madrid. But this time something changed, and tremendously; Liverpool are not the unit they once were, nor the one that the famous slogan 'You'll Never Walk Alone' suggests. After several years, the Jurgen Klopp magic might have expended its last remaining resources. Once known for being energetic, the last months have been tragic, between injuries and inability to invest in better midfielders. A weakness that Real Madrid took into account.
Real Madrid, however, suffered from two major absences: Aurélien Tchouameni and Toni Kroos. Two absences that seemed of great importance within the first quarter. Liverpool are used to killing the game by tempo, and logically so, pressed Real Madrid, in hope that the Anfield ambience may throw the European leaders off. Which, in fact, seemed to work. Darwin Nunez, a recent recruit coming from Benfica converted for the first advantage; Salah doubled it. It seemed a total nightmare for Los Blancos, who suddenly were two-nil down away from home, at Anfield. Where rationality would suggest the clash was over, football's very own dark arts took over the show. 
Un segundo. That's all Vinicius Junior – and Madrid, needed. Liverpool found it hard to breathe as fast, and suddenly, Madrid seemed the faster side. Inspired by the teenage version of Luka Modric, running the pitch at the age of thirty-seven, the challenge was accepted. Disconnected and disoriented, Liverpool finished the half 2-2 – they were 2-0 up barely twenty minutes earlier.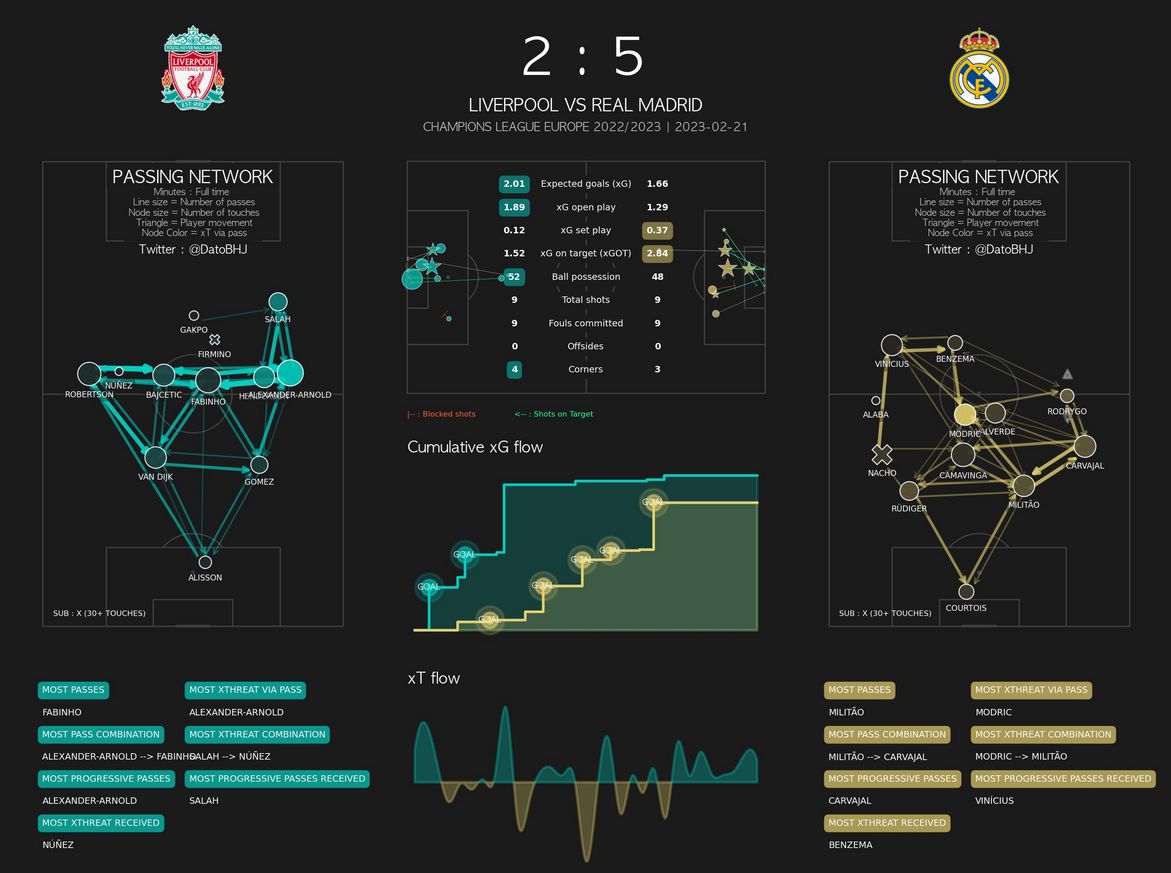 (Graph created by @/DatoBHJ on Twitter) 
Breathe. The second-half whistle blew, and uncertainty was all over the pitch. How would either team change?  
Klopp seemed out of ideas, unable to explain what had just happened.
Ancelotti, for his part, had been forced to change Nacho Fernandez for David Alaba, injured.
It's on such European nights that Real Madrid roars loudest, fans say. The Madrilenos' legacy was fresh in the mind. Remembering last season and Real Madrid's madness imposed on Paris Saint-Germain and later Manchester City, the travelling support were in for something similar. 
All Carlo Ancelotti needed was his block to be more compact – Eduardo Camavinga was doing well initiating plays as the deeper midfielder, but found it hard to intercept Liverpool's play; yet without legs to deal with him, he had the crucial advantage.  
Carlo blinked, and suddenly, the orchestra assembled, something like a revived Avengers.
Baila, Vinicius. The rocket exploded and the Real Madrid machine was in motion. Real Madrid found that 'comeback' mentality. A mentality instilled through the club's culture, prevailing for several decades. Whatever advantage the opponent had acquired, one goal was enough to turn the tide; it was too late. Before they realised, it was over for them.
Rodrygo, a man for big nights, much like Vinicius and Modric, pulled the trigger. With so much space at his disposal, he ran inside, outside, around his opponent, both with and without the ball.
Luka Modric, Rodrygo Goes, Karim Benzema and Vinicius were not walking alone – Liverpool were. Among the confusion, Joe Gomez gave off the same energy as an abandoned traffic cone – lost, obsolete and immobile.
As Liverpool tried to operate against the laws of position, role and put more bluntly, rationality, Real Madrid found their ideal scenario – the break. Liverpool might have had roughly the same amount of possession, but the second half barely saw them reach Madrid's box. The other lot, however, scored nearly every time they did. Liverpool were not sufficiently structured to resist the attacks flooding forward, so much so that Real Madrid's front three found all the space they needed. 
On Tuesday, Liverpool Walked Alone. Madrid did not.