La Liga have released their updated salary limits followng the winter transfer window. With little movement in the market in Spain, it was no surprise that there were few major shifts.
Most teams did not alter their squads, or salary limits at all, including Real Madrid. Meanwhile Barcelona's salary limit has decreased by around €8m, despite ridding themselves of several high earners, including Gerard Pique.
The most damaged by these updated numbers are Atletico Madrid, who lost around €26m, as their limit shrunk from €341m to €316m. Their Champions League exit appears to have hit income hard.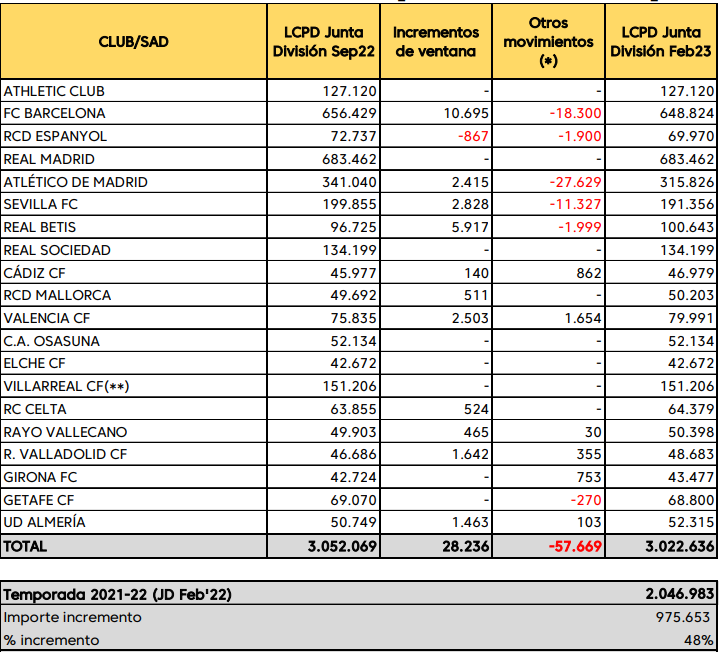 Meanwhile the biggest gainers were marginal ones at that. Valencia (€76m to €80m) and Real Betis (€97m to €101m) both increased their limits by around €4m.
Los Verdiblancos sold Alex Moreno to Aston Villa for €14m and replaced him with Abner, who only set them back €6m initially.
Not all of these clubs will spend the maximum allowed in their salary limit, although a number of clubs, including Betis and Barcelona, have been tight up against the cap. Almeria were another side that struggled to register new players in the summer, but have eeked out an extra €2m over the last six months.
The limit is calculated as a sum of the costs, expenses, and losses taken away from a club's income, with some restrictions on what counts towards the limit.