Barcelona are mired in scandal once again, after it was shown that they were paying the company Vice-President of the Technical Committee of Referees, Enriquez Negreira, over a period of three years. While there is no evidence that they received any benefit from referees in during this time period, some have highlighted the numbers of red cards and penalties in their favour.
Negreira's company, Dasnil 95, received payments of €1.4m over the three-year period for scouting services, as well as consultancy on referees. The tax authorities are investigating his income. The Blaugrana are unlikely to face any action for this, unless it can be proved that Barcelona were favoured by referees.
Spanish statistician Pedro Martin has highlighted the fact that during that period, Barcelona benefitted from 30 more penalties than their opponents and 19 more red cards for the opposition. In the past five years, they had 12 more penalties than their opponents (and 16 more penalties given against them), while they only had 4 less red cards than opponents over the past five years, receiving 16 more.
Saldo de penaltis y expulsiones del Barça en las tres ligas con los pagos investigados a Enríquez Negreira:
33-3 en penaltis
23-4 en expulsiones

Saldo en las 5 últimas ligas (ya sin pagos):
31-19 en penaltis
24-20 en expulsiones

— Pedro Martin (@pedritonumeros) February 15, 2023
During those three seasons involving payments to Negreira, Barcelona won two leagues and lost the other to Real Madrid. Some claim that the payments went all the way back to 2003 and even before that time. Diario AS put together a table of similar figures over that time between 2003 and 2018, when the payments stopped.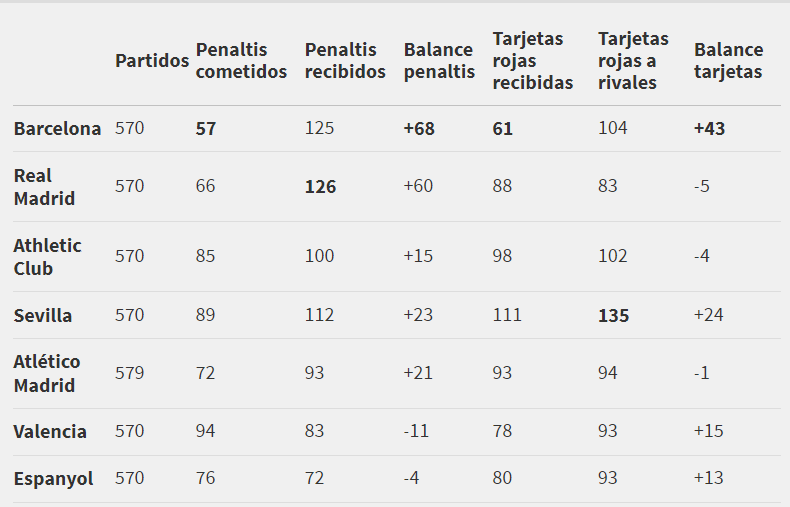 Over the course of 15 years, Barcelona have a balance of 68 penalties in their favour, while in terms of sendings off, that balance sits at 43 in their favour. Both of those balances are the highest for any side and in particular, Barcelona have a significant margin over their rivals in terms of red cards.
Naturally, these figures are to a degree circumstancial. Without returning through every penalty and red, there is no way of knowing whether they are just or not. Nevertheless, it will further fuel the ideas of those who feel Barcelona do benefit from referees.