Valencia defender Gabriel Paulista has apologised for his rash challenge on Vinicius Junior, during Real Madrid's 2-0 win on Thursday night.
Los Che were 2-0 down when Vinicius began running at the Brazilian-Spanish defender, which was ended in unseemly fashion.
Former Arsenal defender Gabriel Paulista has just been sent off for this challenge on Vinicius Jr 😳pic.twitter.com/crkFPdT9dp

— SPORTbible (@sportbible) February 2, 2023
Pasan las horas y no puedo creer la patada criminal de Gabriel Paulista a Vinicius. pic.twitter.com/THISxttZR7

— Luis Delgado 🍁 (@luisdelgado_ok) February 3, 2023
Gabriel was duly sent off, amid heavy criticism from the press and plenty of recriminations from Vinicius, Rodrygo Junior and Eder Militao.
Carlo Ancelotti said after the game that Gabriel was not normally this type of player, and put it down to a moment of frustration, with Valencia interim coach Voro also speaking along the same lines.
Gabriel has now publicly apologised for his challenge with the following message.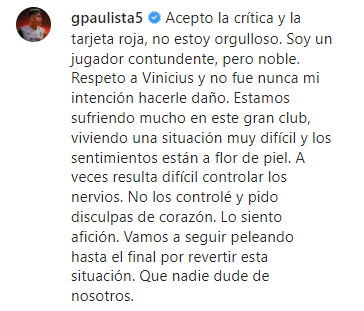 "I accept the criticism and the red card, I'm not proud. I am a powerful player, but noble. I respect Vinicius and it was never my intention to hurt him. We are suffering a lot at this great club, experiencing a very difficult situation and feelings are running high. Sometimes it is difficult to control your nerves. I didn't control them and I sincerely apologize. I apologise to the fans. We will continue fighting until the end to turn this situation around. Let no one doubt us."
He has been handed a two-game ban for the incident, which will see him miss games against Girona and Athletic Club. While it is no excuse for the challenge, the context of Valencia, having lost another coach, is a grim one to be operating in.
The incident cuts straight to the heart of a heated debate around Vinicius, which tends to be divided down club lines. Around half of Spain believe the Brazilian needs more protection from referees from his rough treatment. The other side feel that he earns it with his frequent confrontations, sledging and diving.
Gabriel Paulista's thuggish attack on Vinicius Junior is 'punished' with a two-match suspension. Which is exactly the same ban William Carvalho receives for telling a referee "your decisions were really bad." Spanish football's decision makers are living in a different world. https://t.co/1R0uoVM7t6

— Colin Millar (@Millar_Colin) February 3, 2023