From Estadio de Vallecas
Real Sociedad marched on, and with relatively little fuss. Rayo Vallecano, slayers of Real Madrid this season and Barcelona last, could not raise the temperature at Vallecas sufficiently to make La Real sweat. 'The ninth symphony' read the front page of the local Mundo Deportivo edition, referencing their ninth victory in a row. That makes them the most in form side in Spain, and while they have played two games less, Real Madrid will take on Athletic Club at San Mames knowing only goal difference keeps them ahead of the Txuri-Urdin. Their league form is outstanding, and while Manchester United prepare for their Europa League play-off with Barcelona in February, they will examine carefully how Real Sociedad approach them in the Copa del Rey quarter-finals. La Real will have a rare two midweeks off, having topped United in the group stages.
The question is how? Based on resources, circumstance, and almost all predictions, none of this was meant to happen. This side have all the excuses in the world to have fallen off from finishing sixth, fifth, and sixth again, winning the Copa del Rey too. In most instances, that constitutes a successful cycle, after which relations are strained and standards drop. Over that period they have made a net profit of €41.8m. This summer they lost their star striker Alexander Isak to Newcastle United. His replacement and record signing, Umar Sadiq, managed two games before being carried off by injury. Top scorer last season and captain Mikel Oyarzabal missed every game before the World Cup, as he recovered from his own anterior cruciate ligament injury.
Sporting Director Roberto Olabe could have executed a €16m buy clause on Alexander Sorloth in the summer, but the truth is, he hadn't really done enough to warrant it last season. He came back on loan, not quite as a last resort, but there was no significant hankering to bring him back. Brais Mendez – your top-scoring midfielder in La Liga this season – did cost them €14m. Highly-regarded at Celta Vigo, that Nottingham Forest did not buy him at that price suggests the queue was not bending around the corner. Equally, Real Madrid were losing faith that Takefusa Kubo would ever come through on his promise when they let 50% of his rights go for €6.5m.
In their 2-0 victory over Rayo, they were without their other major signing €11m Mohamed Ali-Cho, Alex Sola, Jon Pacheco, Ander Guevara, Mikel Merino, Andoni Gorosabel and Martin Merquelanz, but you couldn't really tell. Sorloth toed home a David Silva pass after 15 minutes, the sort where his work feels like it deserves some of the credit for the goal as well as the assist, and that was more or less it. Ander Barrenetxea converted a corner 20 minutes later, and although Rayo continued to move forward, the perfunctory manner in which La Real competed, won fouls and escaped pressure left the home fans with little hope.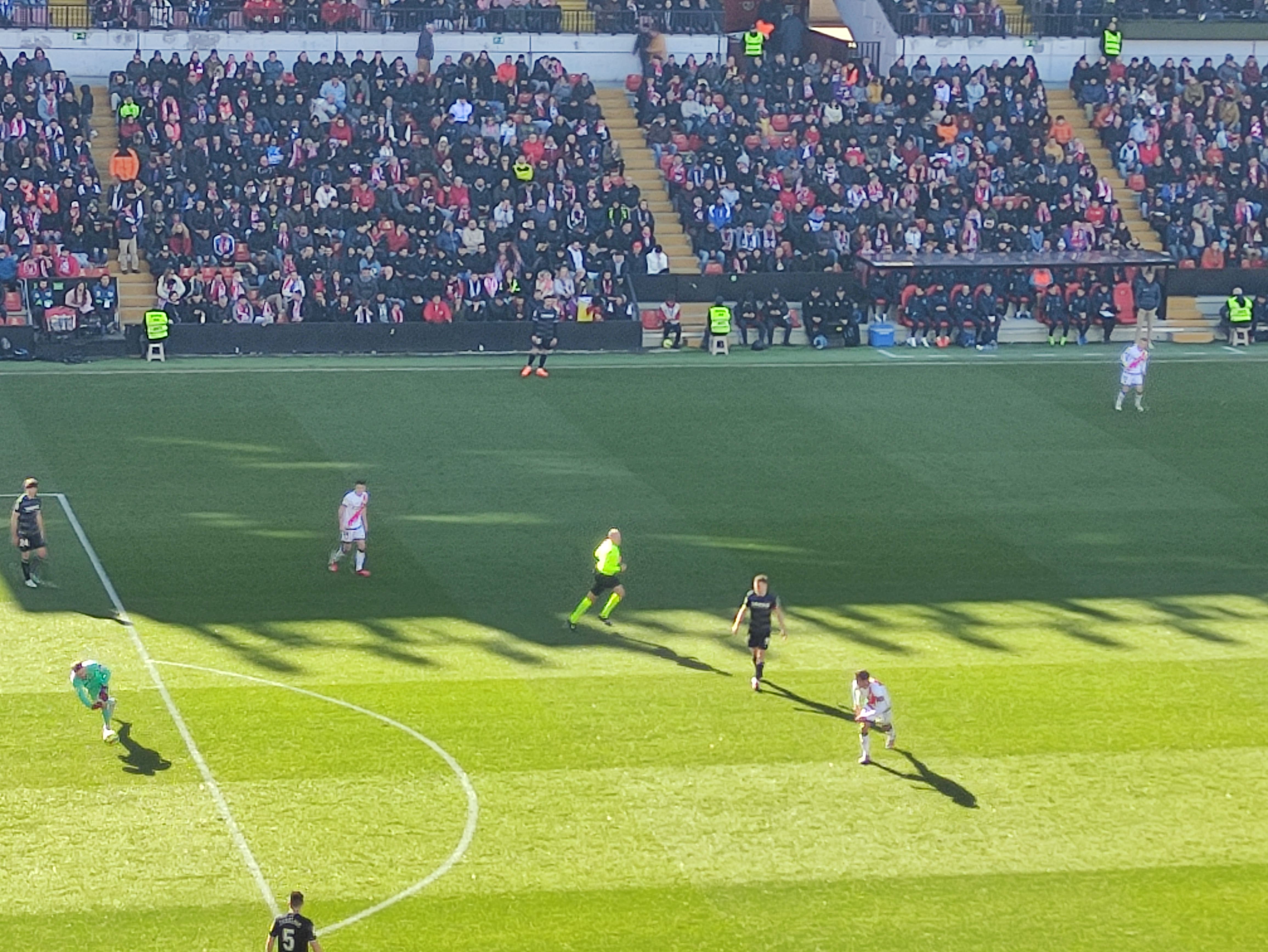 Goalkeeper Alex Remiro was forced into one good save and Asier Ilarramendi made one crucial block, with his face no less, but the sense was that unless Rayo choreographed their moves as perfectly as the Bukaneros support behind the goal, the goal would not come. Sorloth, Brais and Silva played just 64 minutes, while Kubo had the whole game off. Despite the injuries, La Real were consistent in their purpose, their roles and their trust in each other.
Naturally, the individuals open up different possibilities too. A 37-year-old David Silva (this had to be triple-sourced against the evidence on the pitch) was at the heart of operations. Deliberate with every movement, adding purpose to every touch, he had all the supremacy of an ex-professional mucking around in a kids game.
To an extent, he was. Of their starting XI, Real Sociedad had six academy products, while on the bench only two of twelve have not played for the B team. Nearly half Silva's age, 19-year-old Pablo Marín of just three previous starts was as assured and comfortable as teammates from minute one. On came Jon Ander Olasagasti, Robert Navarro and Ander Martín, with just seven senior starts between them last season, the steadfast La Real continued their advance towards victory.
Real Sociedad sealed their 9th straight victory at Rayo Vallecano yesterday.

Of their 23-man squad, 16 have played for their B team, if not come through the academy.

Ahead of today's games, they are level with Real Madrid, 10 clear of Villarreal in 5th.pic.twitter.com/K6qWjoOlog

— Football España (@footballespana_) January 22, 2023
Manager Imanol Alguacil, as a rule quite animated, was vocal and intense. His directions and signals were that just those though. Even if Alguacil is the general of the Txuri-Urdin army, he does not appear to rule through fear or punishments. Instead he directs, adjusts and corrects nuances in the game, because there is no need for radical changes for this Real Sociedad. Everyone knows their role, everyone is comfortable with what is being asked of them. It's a good working environment.
As they roll into Sunday ten points clear of nearest Champions League challengers Villarreal, they will march on Camp Nou this Wednesday with complete faith they can go head-to-head with Barcelona – no matter who plays. Facing Xavi Hernández and company is a highly-trained troop with a singularity of purpose. As Spanish football has come to learn, particularly in the last 12 months, mentality is everything and no side in Spain is playing with less fear than Real Sociedad.